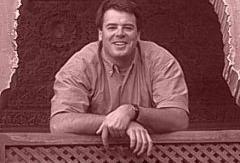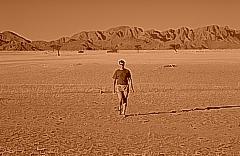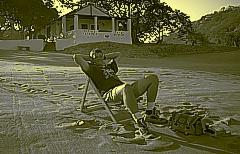 I was born in 1961 in the Netherlands, the country where I still live. I live in the centre of our small country, what makes travelling within the country quite easy. My interest in photography was born during my architectural study. Photography in those early years was just a tool to analyse creations by others, usually buildings and details of buildings. But soon the photos, the actual lesson material, attracted me as much as the building itself. By now, buildings are not my favourite subject to photographs, although sometimes lines and perspectives can be amazingly great.

I like empty spaces like deserts- probably because the Netherlands rank high among the world's most densely inhabited countries. In desert surroundings I especially feel for the colours and the contrasts between rocky material, sand and trees trying to survive. What has left from my education is that photography made me wanting to see the world, rather than just to have a brief look.

I found (and still find) myself lucky to travel on our planet. Always carrying my camera with me. And a tripod and sturdy shoes. Namibia is one of the places I liked best, because of the vastness of the country and the diversity in desert landscapes. But also closer to my home there is much worth to photograph in my opinion. My Netherlands series already has over 1000 photos online. That should say something.

Since 1997 I run this internet homepage - and it takes a lot of time. Apart from publishing through the internet I can find my own work in magazines, books and calendars and on walls of homes and offices.






This website is owned and created by:
Alex Sievers
Soest, the Netherlands
phone: (+31) 35 5881012
e-mail: info@sievers.nl

All photos are copyright protected
© Alex Sievers 1980-2009
no picture may be copied or published without prior permission by the author.

The site is best viewed at 1024x768 pixels and true colors

The photogalleries contain some tens of photos with short notes in English and Dutch. By now there are 8 galleries.

By now there are over 150 country or region specials, dedicated to a country or a theme and over 40 metropolis-specials. Every now and then the specials are extended or changed. To conclude the main chapter galleries I've got some of my personal favourites put together.

The destinations/stocklist gives an overview of the countries, nature parks, cities, villages, buildings, islands etc. I've photographed.

There is info on new additions and changes, has a guestbook (please give me your opinion), gives the possibility to order a print from my photos or to get a license for use, shows some of the awards and reviews my site gained and has links in english and in nederlands through the world wide web.






I'm not someone to talk technical. But to answer many questions I'll put up a few words. I almost always used to shoot on slide film, various types of (most of the times) Fuji and (sometimes) Kodak. The depth, colours and contrasts in these slidefilms are the things I like. But since a few years I also went digital. Since many years I shoot my photos using a Canon camera. Different types of Eos, also because they are quite silent. I just bought a 17 mm wide angle which forces you to really get close to your subject. I've been using up to 300 mm lenses, but think I'll prefer a small tele, like 80 mm. I quite often use a tripod. Certainly in windy desert areas it's a must.